Jalayna Shipley from North Mahaska was one of 448 girls to make history in earning a spot in the first ever girl's state wrestling tournament sanctioned by the Iowa Girls' High School Athletic Union. Only 14 of those girls will be named champion.
Shipley hoped to be one of the 84 who would have a spot on the podium at the end of the tournament Friday. That dream came up short on the first day of state after she finished 1-2 on the day. She faced Evelyn Kramer of South Central Calhoun in her 120-pound opener and lost an exciting 12-9 decision. The loss sent her to the consolation bracket and a chance to work her way to the podium. Shipley jumped out aggressively and led 6-2 after the first period. Kramer battled back to trial 6-5 entering the final period. Shipley. Added a takedown to lead 8-7, then Kramer was able to get a takedown and some back points but was never able to pin the Warhawk.
In her first consolation match, Shipley faced Spencer's Breanna Johnson and won a 4-2 decision to advance in the bracket. Again, Shipley fire out to get the takedown. Johnson scored a reversal to tie the match. Neither wrestler scored in the second. Shipley reversed Johnson and held on for the victory.
"It was a good match to start out with," said Shipley. It was a good match. I could have won it. It was minor decision, three-point match. Maybe I'm beating myself up a little bit, but I am using it as motivation to get me back up to third. I'm just taking it one match at a time."
Injuries have plagued the North Mahaska wrestler this season and her opponents are aware of that fact.
"They have watched my videos, they know what I do, what I like," said Shipley. They are definitely yanking on my shoulder a bit and it's causing a little bit of pain, but I just fight through it. I had a chiropractor look at it right before I came to state, I had a trainer work on it just before my match. It's definitely hurting but no more damage can be done to it."
What became her final match, Shipley was paired with MFL-MarMac's Kadence Pape. Shipley took her to the final whistle but fell by decision 4-1. Pape earned a takedown in the second minute then Shipley earned a penalty point.
Pape had a reversal in the second period and Shipley was unable to put herself in a position to score again.
Tears dribbled from the noble Warhawk's eyes as she walked off the mat for the last time as a high school competitor.
"I think I did good. I just need to wrestle harder and smarter," said Shipley.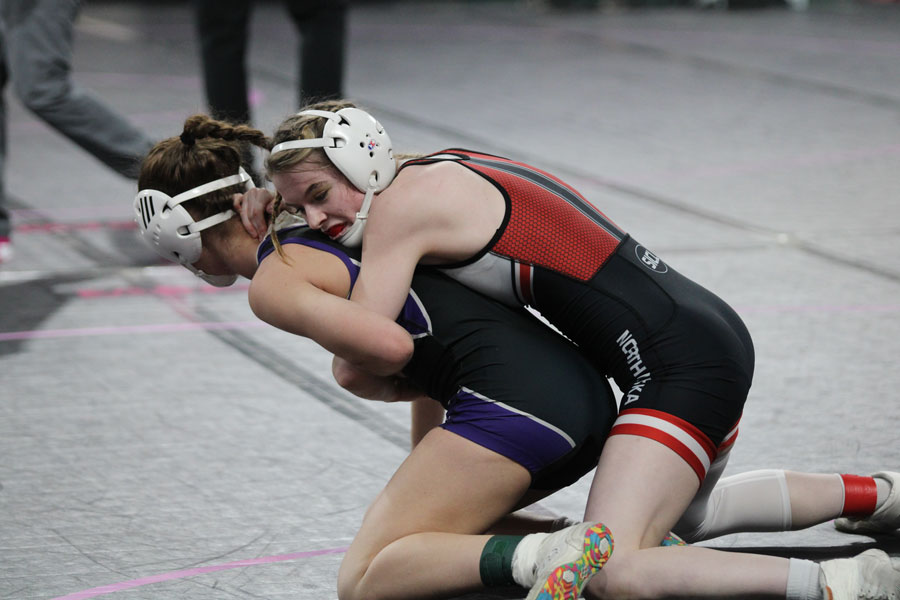 There is no doubt this has been a historic season for girls wrestling. Shipley and her two teammates, Libby Groom and Vanessa Murphy were the first ever North Mahaska girls wrestling team. Shipley became the first South Central Conference champion and the first state qualifier. She will also be the first to score a point at state. All of these and many more were historic firsts.
"It was fun," said Shipley. "I like to be able to experience big tournaments. This state tournament, I wish it would have ended with me on the podium. It's hard to say goodbye to your last high school tournament. But the people I have been around have made it fun."
Shipley's wrestling career is not finished.
"It's been a good experience," said Shipley. "I'm disappointed, but it is what it is, and you have to move forward. I'm just going to take that and let it push me to drive further. Everything happens for a reason. Maybe this is my call to be a coach or wrestle in college. Just have to see where it takes me.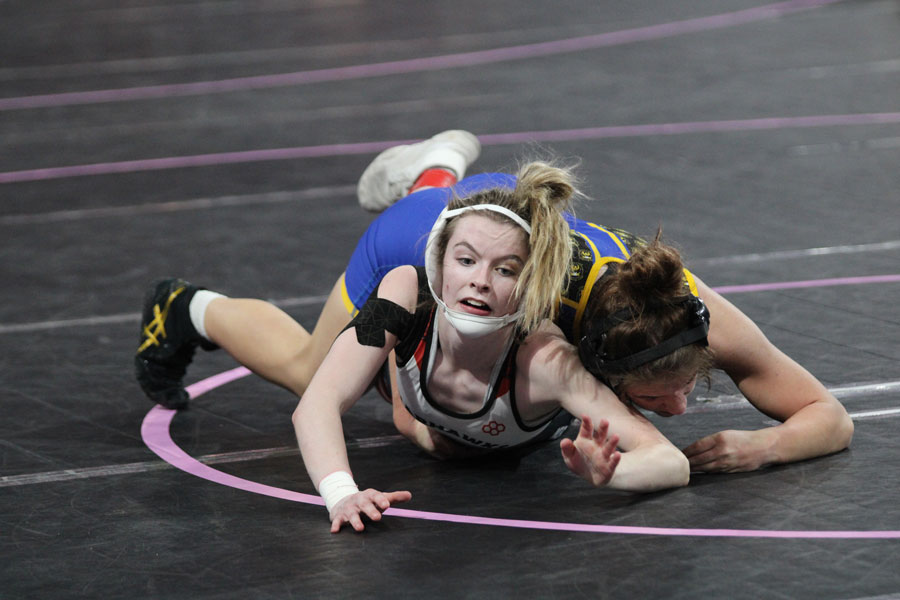 "I have a scholarship to wrestle at Penn. The girls are really fun so we will see where my mind or body goes from here. I would still like to coach.
"Me and Mr. Groom talked about that after my final match of the year, and he said he would take me anytime. I'm excited to see how I develop and see how I grow. I would like to come back and help those girls learn and win the state title I didn't get to earn in my high school career."
Coach Eric Groom has seen the growth of girls wrestling not only with her daughter Libby, but with Shipley as well.
"Words can't describe how proud we are of this girl," said Groom via a Facebook post. "She has dedicated three years of her life to help build a tradition at North Mahaska and I can't wait to see what her future brings."
Layla Ewing of Moravia, who beat Shipley in the region final to advance to state, will wrestle in the championship later on Friday. Shipley pushed her into the third period before losing that match to go as the regional runnerup. Needless to say, Shipley closed out an exciting career and set a high standard for future Warhawk wrestlers.